on Fri Jan 22, 2016 12:41 pm
Message reputation : 100% (1 vote)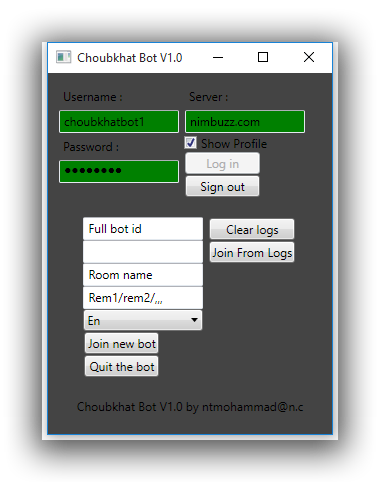 for join your bot , type :
full#id#password#roomname#lang (lang can be 'fa' or 'en')
download link:
second link :
this bot will send reason for any changing in affiliation or role. this means it sends who has commanded the bot (but ban flood , i could not find reason option for it)
changelogs :
added pv inviter and pv kicker . this means anyone can invite himself to room , or kick himself from room(in the reason will be writted "self kick").
to enable them :
pvinvite@on/off
pvkick@on/off
added hang bots. send hang#id#pass#room . they will follow only 2 commands and have one remoter . first "say@pm" , second ".quit"
added log system ( it is fully coded and will be kept in binary files , so no one can access your password or even id)
added quiz (quiz question will be produced fully randomly every time):
quiz@on/off
quizrepite@on/off
quiztimer@inteval
setscore@user@score
getscore@user
added welcome to remoters (they wont receive normal wlc):
wlcr@on/off
addwlcr@msg ( variables u can use : '%u' and '%r')
delwlcr@msg
show@wlcr
clear@wlcr
added welcome special for one user ( they wont receive welcome to remoters or normal wlc) :
wlcs@on/off
addwlcs@user@msg ( variables u can use : '%u' and '%r')
delwlcs@user@msg
show@wlcs
clear@wlcs
added sends2a option . use sends2a#id#pass#s2a pm .
added info section , send info to bot server to see status of it
added this commands :
sub@subject
about@
and many bug has been fixed . now i see no bug , if u see any bug or have any idea for make bot better , tell it me . my nimbuzz id :
[You must be registered and logged in to see this link.]
list of all commands  :
m@id
n@id
k@id
o@id
a@id
b@id
bip@id
p@id
v@id
mod@id
u@ (unban last user)
mems@id1@id2@id3...
bans@id1@id2@id3...
quit@
show@u (show list of users in room)
nx@
setaccess@
setmode@
setlang@
botinfo@
dt@id
cmdchar@'new-char'
shortcmdchar@'new-char'
addrem@id
delrem@id
show@rem
clear@rem
pvinvite@on/off
pvkick@on/off
quiz@on/off
quizrepite@on/off
quiztimer@inteval
setscore@user@score
getscore@user
wlc@on/off
addwlc@msg (variables you can use : '%u' '%r')
delwlc@msg
show@wlc
clear@wlc
wlcn@on/off (wlc nickname may be bugy , im not sure . dont use it for now)
addwlcn@msg (variables you can use : '%n' '%r')
delwlcn@msg
show@wlcn
clear@wlcn
wlcpv@on/off
addwlcpv@msg (variables you can use : '%u' '%r')
delwlcpv@msg
show@wlcpv
clear@wlcpv
wlcr@on/off ( they wont normal wlc)
addwlcr@msg ( variables u can use : '%u' and '%r')
delwlcr@msg
show@wlcr
clear@wlcr
wlcs@on/off ( they wont receive welcome to remoters or normal wlc)
addwlcs@user@msg ( variables u can use : '%u' and '%r')
delwlcs@user@msg
show@wlcs
clear@wlcs
sm@on/of
selfmema@answer
selfmemq@question
rep@on/off (logs will be save)
clear@rep
show@rep
uf@on/off
adduf@text
deluf@text
clear@uf
show@uf
mf@on/off
addmf@text
delmf@text
clear@mf
show@mf
rf@on/off
addrf@text
delrf@text
clear@rf
show@rf
af@on/off (anti flood will ban if some one send messages more than 'msgrep' times in 2 sec)
ul@num
ml@num
rl@num
maxline@num
msgrep@num
autoadd@on/off
autoaccept@on/off
autoinvite@on/off
ac@on/off (admin censor only work for message filters and message length and maxline)
invite@all
addid@id
delid@id
automsg@on/off
addmsg@pm
delmsg@pm
msgtimer@num
show@msg
clear@msg
automu@on/off
addmu@pm (variables you can use : '%u')
delmu@pm
mutimer@num
show@mu
clear@mu
show@ban
show@member
show@owner
show@admin
show@config
clear@ban
clear@member
clear@owner
clear@admin
say@pm
bomb@id
cd@id
suser@id
cl@id(notworking)
is@id(not working)
dp@id
pro@id
sub@subject
about@
Also there is some shortcmd (n is the number of item in list) : 'm n' 'n n' 'b n' 'k n' 'bip n' 'a n' 'o n' 'mod n' 'v n' 'p n' 'addrem n' 'delrem n' 'addwlc n' 'delwlc n' 'addwlcpv n' 'delwlcpv n' 'addwlcn n' 'delwlcn n' 'addwlcr n' 'delwlcr n' 'addwlcs n' 'delwlcs n' 'selfmema n' 'selfmemq n'
'adduf n' 'deluf n' 'addmf n' 'delmf n' 'addrf n' 'delrf n' 'addmsg n' 'delmsg n' 'addmu n' 'delmu n' 'cd n' 'suser n' 'dp n' 'pro n' 'bomb n'
on Fri Jan 22, 2016 5:06 pm
Contact:

prateek@n.c
on Fri Jan 22, 2016 6:44 pm
Contact:

prateek@n.c
on Sat Jan 23, 2016 6:54 pm
nice soft and there is no any code in programming for stealing id. i give it to 3 star *** Good Job Man

Permissions in this forum:
You
cannot
reply to topics in this forum