on Sat Sep 17, 2016 3:53 pm
Blackcops Enemy Room Captcha Flooder v3.0
Description & Features
1. Two Type of Flood Available. i. Flood and Left. ii. Flood Continue.
2. 8, 12 and 16 Captcha Options Available.
3. Add Flood for multiple ids and Pvt Flood  for single id Available.

4. Anti Block Flood ids.
5. Anti Message censor.
6. User can save, load and reset settings.
7. Captcha will auto refresh when id kicked or at wrong captcha.
8. Captcha will auto reload when room opened for all from mem mode/verify mode/locked.
9. Also Show the current status of victim room when room on mem mode, verify mode or locked.

Thats all

ScreenShot & Virustotal Report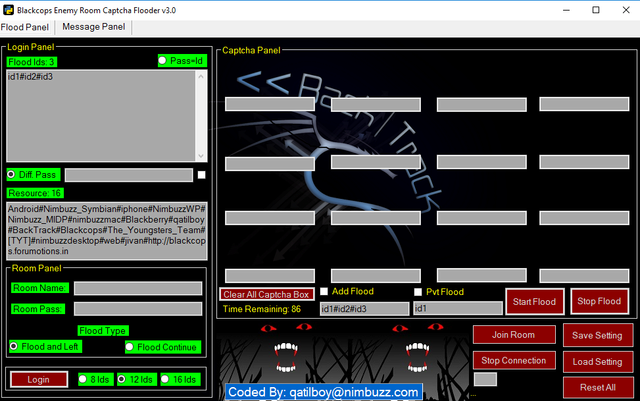 [You must be registered and logged in to see this link.]
Download
Note: If 'URL has been blocked' Error Received. Then First Remove 'http://adf.ly/246619/' from Browser link box and Press Enter.

on Sun Jan 22, 2017 3:40 am

Permissions in this forum:
You
cannot
reply to topics in this forum