on Thu Sep 07, 2017 9:38 pm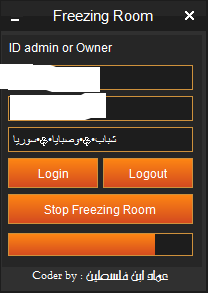 [You must be registered and logged in to see this link.]
20.000 nimbuck
برنامج تجميد الغرفة بواسطة نك ادمن او اونر لمدة كبيرة من الوقت 
مقابل 20.000 نقطة
يرجي اضافتي
!kfn
*kfn
~kfn
add me :
♠♠♠мэтдмoяfosis♠♠♠

[You must be registered and logged in to see this link.]
30.000
nimbukz
on Fri Sep 08, 2017 6:41 pm
WHATS THE PASSWORD FOR THE FILE.. BRO .. TELL ME .. I M UNABLE TO DOWNLOAD THIS SOFT PROGRAM...
on Fri Sep 08, 2017 7:08 pm
on Mon Sep 11, 2017 4:14 pm
i have added u but ....u r not accepting my request......
on Tue Sep 12, 2017 1:12 am
gunjan125 , Sorry but the company  nimbuzz gives my accounts a blocked
me id blocked *kfn and  !kfn and ~kfn
add new id : 
♠♠♠мэтдмoяfosis♠♠♠
Permissions in this forum:
You
cannot
reply to topics in this forum