on Wed Mar 11, 2015 9:50 pm
salam !
omid varam halleton khob bashe !
in avalin softe man baraye king hast
khob aval az hame begam ke man raftam mokhaberat bakhshe filtering goftan ke filter shodan in sait az qabl jai sabt nashode ehtemal ye filter 1.2mahe hast
va rafe filter mishe
mesle site whatsapp!
khob ina hashiye bod berim sare asl matlab
karai soft:
1.dc kardan:
nimbuzz symbian
nimbuzz java
nimbuzz android
nimbuzz desktop
2.block bombus
3.pv flood
4.add flood user haye room
5.gerftan list user haye room va send to pv master
6.add flood dadan user haye room
7.qabliyat online id haye add flood va relog kardan id spy
8.multi bodan master ha
9.send link captcha + ax be pv master
-----------------------------------------
send help dar pv bot in dastor ha ro be u mide
dastor haye master ha:
add mster,send:
master/user
delete master,send:
rd/user
online kardan idhaye flood,send:
idf/on
baraye offline kardan,send:
idf/off
add flood dadan room,send:
join/room name
ax Capcha+link send mikone pv
baraye javab dadan soal admin faqat javab ro send konid !
baraye start add flood dadan userhaye room,send:
add/ac
baraye stop,send:
add/de
rest kardan id master,send:
rec
baraye flood Zadane Pv,send:
t/user
baraye stop pv flood,send:
pvf/de
braye dc clinet haye nimbuzz In dastorat send shavad:
dis kardan symbian:
diss/user
baraye dis android:
disa/user
baraye dis nimbuzz desktop:
disd/user
baraye dis java:
disj/user
baraye block bombus:
block/user
baraye tanzim vaziyat:
sts/online
sts/away
sts/busy
-------------------------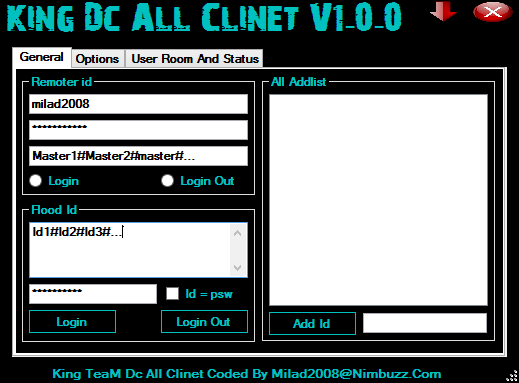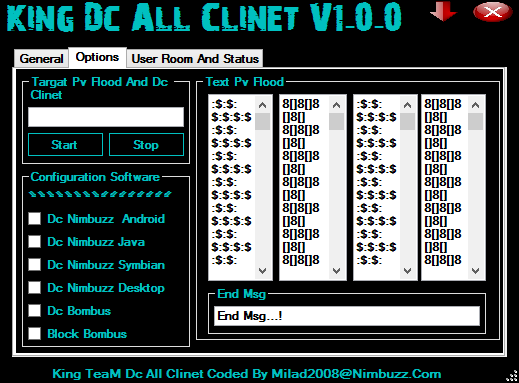 DOWNLOAD :
[You must be registered and logged in to see this link.]
SCAN :
[You must be registered and logged in to see this link.]
on Tue Jun 23, 2015 4:30 pm

Permissions in this forum:
You
cannot
reply to topics in this forum